Admission 2021 – regular procedure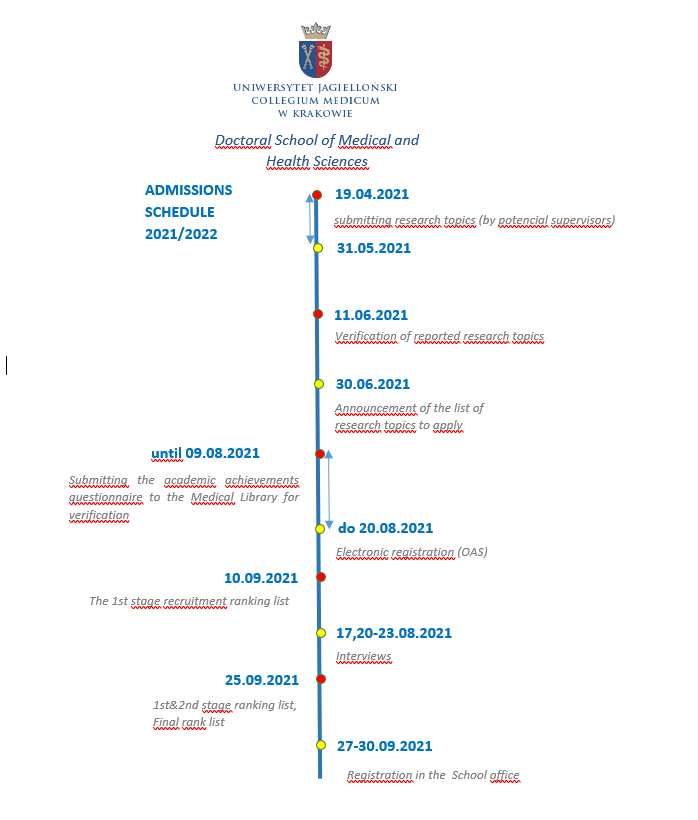 6 semesters education programme-for didactic cycle 2021/22

Detailed terms and procedure for recruitment to the Doctoral School of Medical and Health Sciences (DSMHS) at the Jagiellonian University in the academic year 2021/2022

Resolution No. 4/I/2021 of the Jagiellonian University Senate of 27 January 2021 concerning rules for recruitment to the Doctoral School of Medical and Health Sciences in the academic year 2021/2022

 Recruitment dates SDNMiNoZ
Word of advice
Each document submitted to the Doctoral School of Medical and Health Sciences must be accompanied by a certified translation into Polish if not in the Polish language.
A certified translation into Polish means a translation that is certified by:
• a Polish certified translator (a person included in the list of certified translators in the Polish Ministry of Justice) or,
• a certified translator registered in a country of the European Union, Iceland, Liechtenstein, Norway or Switzerland, or another OECD country (if there is such institution as a certified translator), or
• the consul of the Republic of Poland, competent for the state on which territory or in which education system the document was issued, or
• a Polish accredited diplomatic mission or consular office of the country on which territory or education system the document was issued.
For persons referred to in Art. 186 (2) of the Act, it is necessary to present two opinions confirming the high quality and advanced level of research work, issued by research supervisors with habilitated doctor degrees or employees of a foreign university or scientific institution who have significant achievements in the field of scientific issues related to the study programme.